Workshops
April 27, 2010: Perfume Workshops!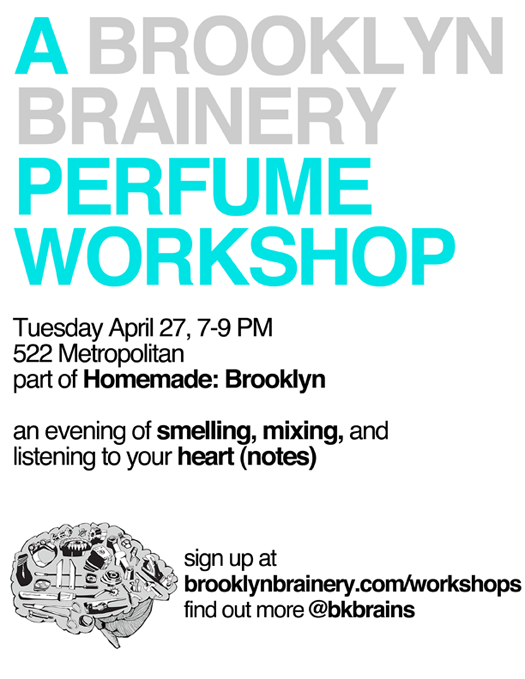 Ouch, we're full! If you want a 1 on 1 perfume-making session, though, maybe you should get over to our kickstarter page - $115 gets you a session with one of our instructors where you're walked through the process of designing your own perfume.
On April 27 we're hosting a couple perfume workshops as part of Homemade: Brooklyn! We're distilling everything we learned in Scents & Sensibility into a couple one-hour sessions, and it's going to be pretty wicked.
Ever wondered where perfume really comes from? What the difference is between a top note and a base note (and why you should care)? We'll take a look!
Learn to smell! Teasing out the individual notes in a perfume is hard, but I promise it just takes a little practice. We'll introduce you to some popular essential oils and show how they're used in the perfume.
Put theory into practice and mix your own! Unravel the super secret mysteries of the difference between a scent in a bottle, a scent on your body, and that same fragrance months later.
Want to sign up? Both workshops are all full up!
This is all a part of Homemade: Brooklyn, a most awesome pop-up shop of local Brooklyn goods. It's running from April 23-30 at 522 Metropolitan Ave, 12-8pm every day, and you most certainly should roll by!
WHEN: April 27, 2010, sessions at 7-8pm and 8-9pm
LOCATION: 522 Metropolitan, between Union and Lorimer
COST: Super free!
HOW TO SIGN UP: Both workshops are full!
WANT TO LEARN MORE?: We're going to offer our 4-week long Scents & Sensibility course next semester (late May), you should probably follow us on twitter @bkbrains or sign up for our mailing list to hear when we open registration!
And just in case you care, we also have super fun classes all of the time on things like perfume, meat, optics, poetry, weather, makeup, and everything else under the sun. see some examples!